Last Thursday, my plans for the day didn't go as I had hoped they would. Shit happens, whaddygonnado?
I had both lunch and dinner plans with two women of braun and brains, wit and wisdom. Every moment I spend in the company of both of them is more than time well spent, it's time that's locked away in the bank of memories, and stories that I tell to other friends about how awesome these two are. Colleen and Noelle, two awesome chicks, bad ass and rad, all the way.
Happily, I was able to reschedule my plans with Colleen to the week after next. We'll be ladies that lunch, talk some smack about people we mutually think suck it raw, and muse over the trappings of mundane life and what have you. Usual things that lunch ladies yammer on about over soup served in small crocks with baked cheese, and salads with dried cranberries in them.
Noelle; our plans can't be rescheduled, her name jotted down in my calendar not once, but twice, to save the date. She passed away on the night we were supposed to see each other.
About once a month, Noelle and I get together and go to our sacred place of sisterhood, a place we affectionately call The Coulo Cantina. The margaritas are heavy on both the cheap tequila and pureed mango, just the way we like them. The guacamole is to die for, the chimichanga she likes is fried in week old grease, and the video jukebox ala 1990-something is on a constant rotation of every Shakira performance ever. The check is served with a shot of Bailey's. It's random, but we love it. Case closed.
Noelle had to reschedule our Coulo Cantina date because the open road beckoned to her, and she followed her calling. Noelle's passion was her motorcycle. With her own two hands, blood-sweat-and-tears, and many woman hours, she built that thing from the shell up. I believe she said it was a black Suzuki 2000, and it was her bambino.
She dropped me an email letting me know that she was headed west with a group of her biker cohorts on a last minute trip to Colorado. More so, she was going with a guy she was on the fence about bedding, and couldn't wait to get back to spill the results of her Rocky Mountain Booty Call on Cantina night.
For a few days, she updated her Facebook page with pictures and blurbs about her trip. Both Iowa and Nebraska were listed as big "yawns!" When she got to Colorado, her exact words were "Colorado kicks ass!! It's where motorcycles go for vacation! Amazing roads everywhere!! on Wednesday"
By Thursday evening she was gone. Despite her avid commitment to motorcycle safety, (she didn't step foot near her bike without her helmet and gear) she wasn't able to tame the roads she was so romanced by.
I didn't find out the news that the world was deprived of Noelle and her total awesomeness until Saturday. Her sister sent me a Facebook message, asking me if I was aware of what happened to her, and I should call her when I have a moment. I didn't need to call her to know what she was going to say. I guess I needed to call her not to find out that(or how) Noelle left us, but rather when.
Noelle's gift was her humor. It was infectious, and addictive. Whenever we got together, I was always gifted a mental souvenir from her. It was usually vocabulary. When you see me refer to something as "the suck," that was her. If I say I wanted to "punch them in the tit," that was her too. She said I'm the one that made her vocabulary more colorful. But I assure you, it was the other way around.
If you are enjoying some of the links on my page, like The Beth and Val Show, and This Is Why You're Fat, that was her. Shit My Dad Says, her too. So, she touched your life as well. That's just the kind of gal she was.
Noelle never judged me, no matter what kind of fucked up shit I told her. She'd just smile, fill up my glass, and say something both wise and witty. When I told her of my plans to adopt, not babies, but two boys just on the verge of their teenage years, instead of telling me all of the reasons why it was a bad idea, she pointed out of the reasons that it was fantastic idea. That was just the kind of gal she was.
But most of all, Noelle was one of the biggest advocates of me getting off my lazy ass and writing. It was the only thing she ever really razzed me about. That is why I dedicated this blog to her in my very first post. I wanted everyones whose eyes saw this, to know that she is a source of my inspiration.
Traditionally, I'm supposed to be sobbing my eyes out, looking up at the sky and demanding to know from God why he'd take someone so awesome from a place that needed more people like her. But, I don't think Noelle would dig on that too much. Sure, I cry a little here and there, because I'm going to miss my friend. But she really was the type of girl who wanted to celebrate everything, so crying is something she'd punch me in the tit for. And a part of me thinks that God took her because her maybe she was so awesome, he wanted her for himself. Maybe God needed bike lessons, or a good chimichanga?
Here's a picture of my girl, Noelle, about to ride easy and ride dirty at the same time...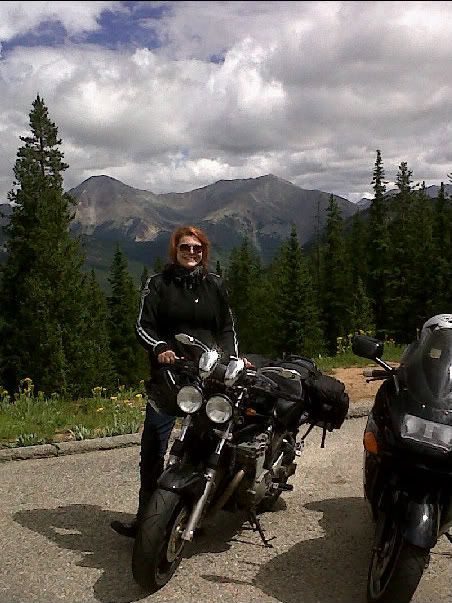 I think I still may go on our dinner date, drink her half of the mango margarita, and eat her half of the guacamole, just like normal. I'll play She Wolf for her twice, just to get her gag.
I know she's up there, a smoke hanging out of her mouth, wondering what the big deal is about. She's the big deal. She was just that kind of gal.
Miss you like a fat kid misses cake, Lady. I will see you at the great Coulo Cantina in the sky....xoxo
Noelle ~ December 19, 1969 - August 5, 2010